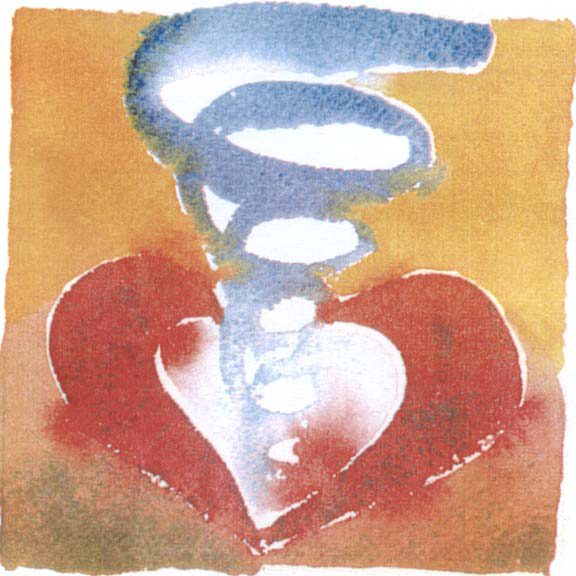 THE MYTHOLOGICAL BACKGROUND TO THE INTUITIVE HEART DISCOVERY
PART ONE: The Four Directions of Training
Direction One: The Discovery of Natural Heart Intuition: Meeting the Intuiitve Heart Discovery Tools. The Big House Training. During this residential week, the 8 trainees and I get acquainted, bond with each other, and develop our plans and strategies for the training that occurs after the Big House week.

Direction Two: The Individual Incorporation of Intuitive Heart Discovery Tools: A Personal Mentoring with Henry Reed, a follow up to the Big House week. Each trainee and I get together on the phone for a consultation, usually once a month. Our purpose is to explore how the trainee is learning to adapt and incorporate the Intuitive Heart Discovery Tools into both the personal and professional life. During these consultations, the skills are used to further the exploration. Each trainee has as one development mission to use the skills to support and help a peer trainee move through the program. This extra level of training and support has proven important in developing confidence and expertise prior to sharing these tools with the public.

Direction Three: Sharing Intuitive Heart. During this phase of the training, you move out into the public, offering "micro services" as paid practicums. These financially remunerative activities not only advance your skills and confidence, contribute to the offset of your tuition investment. You learn by earning within a few months. In preparation for these practicums, you will have both your peer mentor and Henry Reed supporting you in your outreach. Before year's end, you will be ready to have Henry help you prepare for your paid internship, and then personally supervise you as you conduct your Intuitive Heart Discovery Group, which rewards you with your Certification by the Edgar Cayce Institute for Intuitive Studies.

Direction Four: Innovation and Growth in a Supportive Learning Community. Certified Intuitive Heart instructors have their own newsletter, learning community, and both collective and designated, committed support. We continue to find new modes of expression and areas of application.
Mythology of the Four Directions: SUNDANCE AND THE ADVENT OF COMMUNAL CONSCIOUSNESS
The "mandala" represents the integration of the "four directions," meaning the four essential modes of awareness: sensory, thinking, feeling, and intuition. Native American spirituality, the psychology of individuation developed by Carl Jung, and the teachings of Edgar Cayce all reflect a similar understanding of the intention of evolution: for our awareness, our consciousness to expand to be able to include the experience of being at one with all, while also remaining an individual in your experience and expressio of this realization.
To achieve this consciousness is not a solitary act, but requires learning how to be ourselves, to look within for guidance and understanding, and to look within also for our relations with others--to "find them in our heart." Edgar Cayce once noted that it is the "purpose of the heart" to allow you to simultaneously experience your individual window on infinity as well as merge with and become one with it, the All, or God.That personal "enlightenment," however, is but one step along the path. There comes a time when the enlightenment experience can be shared. Then we find ourselves in "Heaven" together.
Such a vision was the background for the mythological study and research that led up to the formation of the Intuitive Heart Discovery Group, which is intended to help folks discover their own natural intuition so that they may then discover what it is like to experience and communicate with each other from this dimension.To read how Henry Reed first envisioned this mythology, how his "dream of the research dance" led him to develop Sundance: The Community Dream Journal, which correlated people's dreams of the future. He analaysed these dreams from an archeypal perspectiive. He realized how a group of people could be taught the skills to experience themseles and the group membres. To read his mythical account and the story of how he has applied this resarch, go read The Sundance Experiment. You will see how a group of citizens' dreams might alert the country. In a similar fashion, dreams in a group can also suggest ways to experience connectedness, to attain that state of transpersonal consciousness that is on the cusp of our new age of awareness. Intuitive Heart skills are preparing folks to make this natural transition to a new mode of understanding, beyond separatioin and judgment to oneness and discernment.
THE EDGAR CAYCE INSTITUTE FOR INTUITIVE STUDIES CERTIFICATE PROGRAM SHARING THE INTUITIVE HEART
FOR FURTHER INFORMATION OR SERVICE CONTACT HENRY.REED@ATLANTICUNIV.EDU
COPYRIGHT C 2017 HENRY REED EDGAR CAYCE INSTITUTE FOR INTUITIVE STUDIES