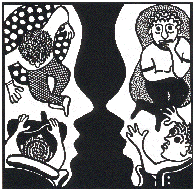 Artwork by Henry Reed, Ph.D.

Close To You
During the fifth group session,you will learn
how to make a connection with the feelings
of another person, experiencing their energy level, while allowing yourself to be attuned to the patterns of their thoughts.
In the "Close To You" exercise you'll work with different partners to develop a sensitivity to the role of the imagination as an intuitive channel. It is something like the "mind meld" that the Vulcan people can do on Star Trek, and is part of learning to be the "empath" described in science fiction literature.