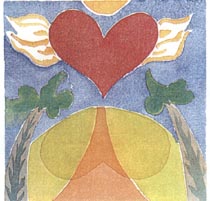 Research and Information on
Heart Awareness
"...remember it has been given that the purpose of the heart is to know yourself to be yourself and yet one with God..."
Edgar Cayce reading 281-37
Heart Awareness is Replacing Right Brained Thinking
"The longest trip you'll ever make is from your head into your heart."
The Edgar Cayce Institute Offers a Unique program in heart awareness, "The Intuitive Heart: A Spiritual Discovery Process for Small Groups." Learn how you can receive mentoring in providing this training in your own home or office, by clicking here!
Enjoy an Intuitive Heart Discovery Group
Research confirms the value of heart awareness in the links below:

Explore More Training Opportunities at ECIIS
* THE EDGAR CAYCE INSTITUTE FOR INTUITIVE STUDIES * SHARING THE INTUITIVE HEART *
FOR FURTHER INFORMATION OR SERVICE CONTACT HENRY.REED@ATLANTICUNIV.EDU
COPYRIGHT C 2013 HENRY REED EDGAR CAYCE INSTITUTE FOR INTUITIVE STUDIES