Intuition and Dreams
The Self-Guided Research Project
Learn how to get help from your dreams. Here is how it works:
1) Once you enroll in this project, you will receive a large packet of materials. You'll begin by following the instructions in your packet.
2) The first step is to work with the interactive video DVD, where you will learn different techniques for dream interpretation. You will practice these methods so that you'll be familiar with them when you encounter them during the research project.
3) You'll pick out one night of the week as a study night. You record any dreams you might have during the first week of the project. On your first study night, you'll use the self-guided workbook to learn how to interpret those dreams and set up a "dream quest" to initiate a project to improve some specific aspect of your life or to advance on some specific creative project.
4) You'll embark on your adventure, applying any dream insight toward your target goal.
5) You'll continue with this sequence for four weeks, each step being guided by the workbook. You'll also have a text on dreams and on how to get help from your dreams as background reading.
6) At the end of the project, you'll have a phone consultation with Henry Reed, Ph.D., designer of the project, who will discuss your experience with you. The research objective, from the Institute perspective, is to collect information on the relationship between the type of question asked and the type of dream information obtained.
The Dream Quest Resources
During this project, you will use these powerful resources to create a life-changing Dream Quest experience in your own home environment!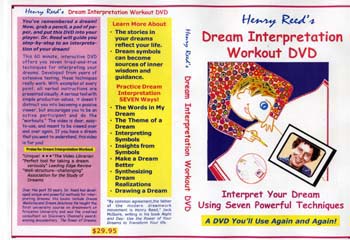 This easy and fun to use interactive video DVD is a unique tool, for both beginners and advanced dreamers, that will get you and your dreams into a teamwork mode, ready to begin your quest. Afterwards, you'll use the video DVD to keep your dreamwork skills fresh and alive.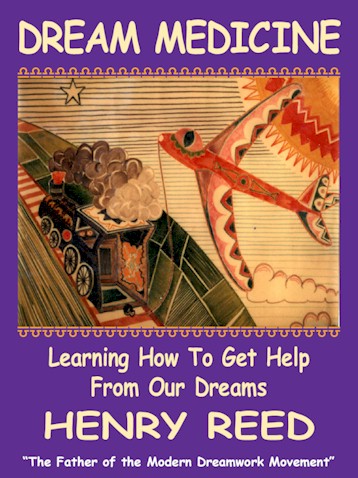 This workbook guides you, every step of the way, to make positive changes in your life, by working with intuitive guidance you receive from your dreams. Field tested with hundreds of explorers who have found that their dreams are indeed responsive to the effort to apply them for positive change.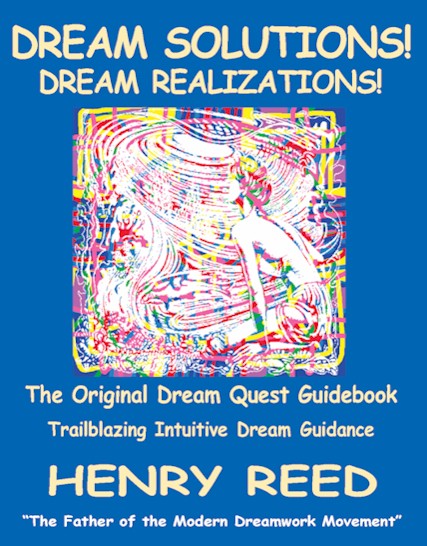 This book, illustrated with my dream art, contains many helpful essays on working with dreams. If you have difficulty remembering dreams, you'll learn about many things you can do to improve your dream recall. You'll learn many secrets of dream interpretation. This book will provide you with valuable background information that will help you appreciate the discoveries you are making during your mentored Dream Quest and will help you maintain your creative relationship with your dreams after the Quest. If you would like to read the first chapter of this book, where I tell my own personal history of discovery about the creative, guiding and healing power of dreams, click here!
Your Research Package Includes:
Complete Instructions for Participating in the Research Project

Dream Solutions/Dream Realization Work Book

Dream Interpretation Work Out DVD

My illustrated book, Getting Help from Your Dreams

At the end of the five weeks, you and I will talk on the phone to discuss your experience. During this conversation, we'll explore how you can build upon your experiences, and how you can take your dreams and intution to the next step. For our research purposes, we'll be interested in learning more about your goal, the questions you asked of your dreams, and the types of answers you found using the Edgar Cayce "guidance heuristic" that makes up the essence of the research format.
Research Participation Fee (covers all materials and phone consultation) $89.00

If you would like to read examples of typical results from this project, here are some published accounts: